Golf Courses & Sports Fields
Hullah contractors give golf courses and sports field drainage our full attention. Using specialist trenching machines with conveyer systems, laser grading technology and low ground pressure tyres allows us to provide the right drainage and keep the quality of the playing surface.
We have many years of experience, constructing new Greens, tees & fairways down to working alongside greens staff on small projects to enhance the course.
We can provide a complete service for golf courses/sports clubs to the highest standard.
Primary Drainage
Full reinstatement
Detailed costing service
Pipe installation
Secondary Drainage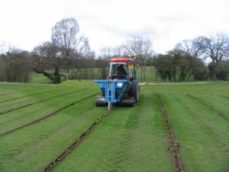 Gravel Banding
Sand Banding
Sand Slitting
Sports Surface
Vertidraining
Greens/Tees/Ponds/Bunkers/Mounds
Top-Dressing
Over-Seeding
Construction Work
Sports Pitches/All-Weather Pitches
Verti-Draining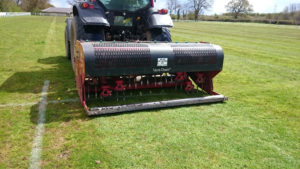 Allows oxygen into the root system and to let surface water into the drains. Even if there is no existing drainage it will still decompact the soil structure and allow oxygen to the roots.
It also helps improve the soil structure and creates a quicker drying surface helping prevent surface water problems.
Overseeding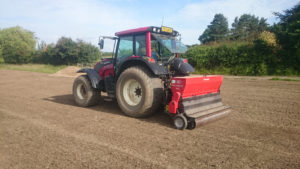 It is important to keep hard wearing playing surfaces maintained. Overseeding these areas in the closed season will ensure a green healthy sward at the beginning of the playing season.
Maintaining these bare patches stops weeds and keeps a healthy sword.

Sand application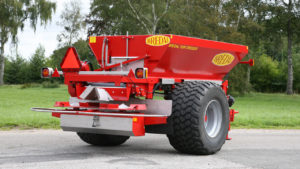 Professional application of washed silica sports sands should be used on natural sports surface. Using the wrong sand can introduce more clay to the playing surface.
Adding the right sand will improve the soil size but needs to be put on with a spinner spreader and done on a continuous basis over a number of years.
We will supply a washed sports sand from a local quarry to keep haulage costs down. This will then be spread on with a spreader using tractors with sports turf tyres to avoid any damage to your playing area.
Fertilizer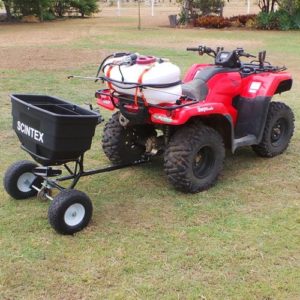 Using the right nutrition will help with turf density and improve playing conditions.
Soil testing is important to make sure the correct fertilizer is applied.

Sand and gravel banding
This method is usually used over a primary pipe drainage system to speed up getting rid of surface water.
This can be done using open trench or trenchless technique. Using machines with turf tyres can get the job done with minimum damage to the surface.